Highlights of the tour
*The Mongolian Gobi is dubbed as the cemetery of dinosaurs. Since the 1920's thousands of dinosaur skeletons and egg nest discovered from a number of sights of southern Mongolia.
*This tour will be the dream journey for travelers who interested in paleontology and an exotic ecosystem of Gobi.
*The trip will be led by Mongolian paleontologists and filed staff.  We will fly the Gobi and travel the most remote and attractive parts of southern Mongolia.
---
Guided privately! However you are a single person, a couple, or a group; you'll have your own guide and driver for all airport pickups, drop-offs, and daily excursions.
Choose Your Own dates! This is not a fixed-departure-date tour. Just let us know the dates that you want to travel to Mongolia, we will manage everything.
Customizable! Do you want to travel longer or shorter or want to explore more? Please let us know, and we will design the itinerary and cost again for you.
---
Day 1. Ulaanbaatar
Arrive in Ulaanbaatar and transfer to the hotel. Tour the central Square and Museum of National History and with its splendid collection of historical and cultural exhibits. And visit the Dinosaur museum. Mongolian traditional folklore concert. Evening a city tour of Ulaanbaatar, including the War Memorial at Zaisan if time permits.

Accommodation: Ulaanbaatar hotel
Meal: Lunch/Dinner
Vehicle: Bus
---
Day 2. Gobi desert/Yoliin am
After breakfast at the hotel transfer to the airport early in the morning for a short flight to Dalanzadgad, the central town in South Gobi province.
Fly: Ulaanbaatar / Dalanzadgad MR 111 0620/0740 (1h 20m)
After lunch at base camp, visit Yoliin Am (Lammergeyer) Valley National Park for trekking and opportunity to photograph the stunning landscape. Return to the camp. Dinner and free time in the evening.
Accommodation: Ger camp
Meal: Breakfast / Lunch / Dinner
Vehicle: 4WD jeep
---
Day 3. Noyon soum, Mt. Hanan Hets
After breakfast, we will start a tour of the insight of the Gobi desert. Today we will reach Khan Khets Rocky Mountains formed by an earthquake. Hiking amount he area and visit Toli Khand. Overnight in a tent.
Accommodation: Tented camping
Meal: Breakfast / Lunch / Dinner
Vehicle: 4WD jeep /210km/
---
Day 4. Naran daatsiin Bulag
Today we will drive to Naran Daats. On the way, we will stop at Gurvantes soum, one of the largest towns in the middle of Gobi desert for fueling and food supply. Late afternoon arrive in Naran daats (Naran daatsiin bulag) the spring in the desert. Hiking before sunset is highly recommended. Naran Daats Hudag (Narandaatshudag) is a spring place where ground water flows naturally out of the ground in the middle of Gobi desert. Overnight in ger camp.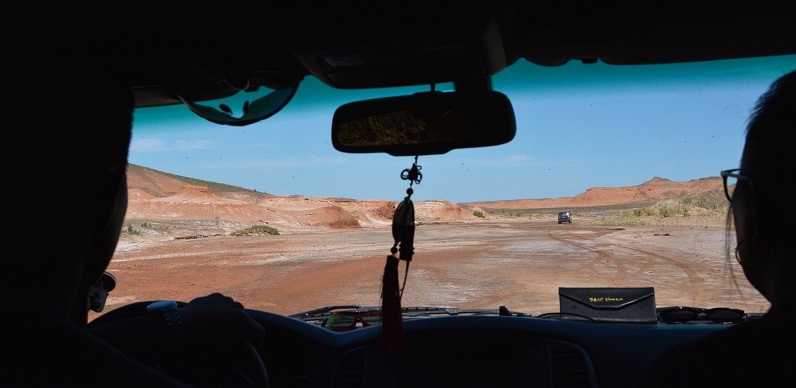 Accommodation: Tented camping
Meal: Breakfast / Lunch / Dinner
Vehicle: 4WD jeep /190km/
---
Day 5. Zulganai oasis
Drive to Zulganai Oasis. *Zulganai oasis locates close to Khermen tsav canyon in Umnugobi province of southern Mongolia. Zulganai River has beautiful dense forest with cane and willow. It is extremely fascinating with its natural view of a river running on edge of sand dunes. Overnight in a tent.
Accommodation: Tented camping
Meal: Breakfast / Lunch / Dinner
Vehicle: 4WD jeep
---
Day 6. Khermen tsav: Mongolian Spinx
Today we will drive to Khermentsav. Khermen Tsav is an alluring red looking canyon that stretches for 15-20 km. 65-250 million years ago Khermen Tsav was an ocean bed. After drying out, millions of years wind and water erosion formed this majestic looking canyon with moon surface shapes. The red colors in the sunset bring you to feel like you are on the moon's surface. American Scholar and Palaeontologist Roy Chapman Andrews named this place as "The end of the world". The site is known not only by its beauty of natural formation but also by its findings of dinosaur fossils and eggs. The first full skeleton of a dinosaur was found in this place.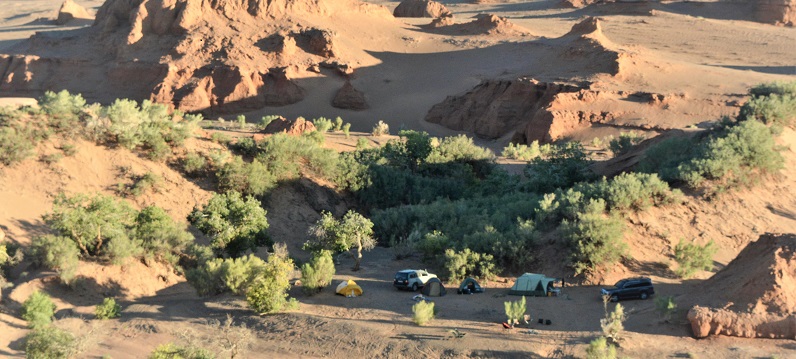 Accommodation: Tented camping
Meal: Breakfast / Lunch / Dinner
Vehicle: 4WD jeep
---
Day 7. Day at Khermentsav/ Nemegt
Drive to Nemegt via Gurven tes soum. The Nemegt locality is one of the most famous dinosaur localities in Mongolia ever since the site was discovered in 1946. It yields abundant dinosaur skeletons; however, little attention had been given to dinosaur footprints at the locality. Late afternoon arrives in Nemegt set up tented camp and relax. In the evening guide will give an interesting speech about Mongolian paleontology and findings from Nemegt with the campfire and cold beer.

Accommodation: Tented camping
Meal: Breakfast / Lunch / Dinner
Vehicle: 4WD jeep
---
*The only Nemegt dinosaur footprint study focused on descriptions of the footprints, gave only a few taxonomic implications, and provided no comparison with other dinosaur track sites. This study reports newly recorded dinosaur footprints (hadrosaurs, sauropods, and theropods) at the Nemegt locality during the Nemegt Educational Expedition of 2016. A single footprint-bearing horizon that extends several kilometers was examined within the Nemegt Formation to determine the ichno-taxonomic assemblage of the Nemegt dinosaurs. A significant difference was identified between taxonomic compositions based on skeleton remains and ichno-taxonomic compositions based on footprints. Although the vast majority of the skeletal elements collected in the area belong to theropods, the footprints suggest that the Nemegt locality was dominated by herbivorous dinosaurs. This suggests that the previously inferred Tarbosaurusdominant taxonomic composition at the Nemegt locality is a result of a preservational bias. The size distribution of the newly studied footprints suggests that the Nemegt hadrosaurs had an adult-dominant and multigenerational population structure. Comparisons with dinosaur track sides at the Cantwell (Alaska, USA) and Tremp (Spain) formations show that the population structure and body sizes of the Nemegt hadrosaurs were similar to those of the high-latitude Cantwell hadrosaurs. It suggests that the Nemegt area was more open and had higher plant productivity than the Tremp area.
---
---
Day 8. Day at Nemegt
After a pleasant breakfast, we will start a full day hiking among the picturesque can Nemegt canyons where most famous dinosaur skeletons discovered. Overnight in a tent.
Accommodation: Tented camping
Meal: Breakfast / Lunch / Dinner
Vehicle: 4WD jeep
---
Day 9. Khongor sand dune
After leisure breakfast, we will drive to Khongor sand dune well known as Singing Dune. As the sand is moved due to winds or is in the process of collapse due to small avalanches, a strong sound is made giving it the name "Singing Sands. A French team has explained this phenomenon due to a thin surface coating of slate over the sand grains which causes the sand to make a resonant sound. The sound is also attributed to heat, the weather conditions in the desert and to the avalanche effect caused by the sand particles moving harmoniously.
The northern border of the dunes is skirted by a small river, the Hongoriin gol, where green pastures are noted. The river is sourced by subterranean flows from the mountains forming its valley. Grazing by camels and horses of the nomadic population of the area is noted.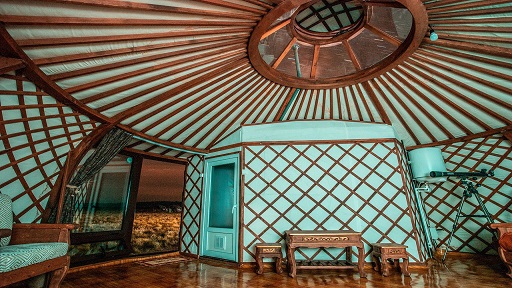 Accommodation: Ger camp
Meal: Breakfast / Lunch / Dinner
Vehicle: 4WD jeep
---
Day 10. Bayanzag
Today we will continue our tour to Bayanzag Flaming cliffs with the alternative Mongolian name of Улаан Эрэг (name Red cliffs refers to the red or orange color of the sandstone cliffs during sunrise and sunset), is a region of the Gobi Desert in southern Mongolia, in which important fossil finds have been made. It was given this name by American paleontologist Roy Chapman Andrews, who visited in the 1920s. The area is most famous for yielding the first discovery of a dinosaur egg nest. Other finds in the area include specimens of Velociraptor and eutherian mammals. Overnight in ger camp.
Accommodation: Ger camp
Meal: Breakfast / Lunch / Dinner
Vehicle: 4WD jeep
---
Day 11. Ulaanbaatar
Early in the morning drive to Dalanzadgad town to take a flight to Ulaanbaatar.

Fly: Dalanzadgad / Ulaanbaatar MR 112 0810/0930 (1h 20m)

Transfer to the hotel. Afternoon free time for shopping.
Accommodation: Ulaanbaatar hotel
Meal: Breakfast / Lunch / Dinner
Vehicle: 4WD jeep/bus
---
Day 12. Departure
Check out the hotel and transfer to the airport for international departure. End of service.
Photos & Experiences
Altai voyage's carefully selected hotel, ger camps, amenities will offer you ultimate comfort and well-designed itineraries and activities will take you to less discovered destinations, most highlighted landmarks of Mongolia.
Book this tour
This suggested itinerary is a starting point. We will be happy to transform it into something completely satisfying to you. Call us on +976 9956188 to start planning your holiday.